Expeditions
QO-100 Actviation on SV9/HB9RYZ Crete Islands from May 8. to 13.2022. It was a holiday style activation with my small 35cm dish, Pluto SDR, SG-LABS v3.0 20W amplifier, POTY Antenna, modified LNB and SDR Radio console for the stabilization.

I made in total 108 QSOs.

All QSOs are uploaded to LOTW.

Thanks all for your calls.
Cargo Ship DX-Expedition from Italy to Cork 14. - 23. May 2017
Article in HBradio [4'375 KB] - the Swiss Amateur Radio Magazin
Präsentation [6'412 KB] an der SWISS-ARTG GV vom 18. Nov. 2017
Cruise Ship DX-Expedition to Iceland 19. - 30. July 2017
Präsentation [6'412 KB] an der SWISS-ARTG GV vom 18. Nov. 2017
QO-100 SV9/HB9RYZ Activation - Crete Island
QO-100 Activation in Crete SV9/HB9RYZ

My SV9/HB9RYZ Activation is finished. I made 108 QSOs, and one lucky guy got with this country his SAT DXCC. All QSOs already uploaded to LOTW. Thanks all for your calls.

Holiday style DX-Vacation in Crete from May 8. to 13.2022. QO-100 activation at 10'489'740.000. 180° Azimuth and 49° Elevation.
Cargo Ship DX-Expedition - click here
Worked on 20m and 17m Band: Australia, Namibia, USA, Anguila, Syria, Brasil, Uruguay, Puerto Rico, Venuzuela, Luxenbourg, Liechtenstein, Isreal, Western Sahara, Palestine, India, Marocco, Turkey, Lebanon, Qatar, Isle of Man, UAE, Algeria, and finally all most whole Europe and Russia. Reached all continents.

A sepcial QSO was between PH9HB/AM Jerry in a Boeing 737 at 33'000ft above Toulouse and HB9PJT Peter in Switzerland in his home shack "Air - See - Land QSO". I met a lot of my Swiss Colleagues from my homebase club HB9RF and HB9O station in the Swiss Museum of Transport in Lucerne. And finally two contacts to the MUBA exhibition in Basel Switzerland. Thanks to all for the nice QSOs - Special printed HB9RYZ/MM QSL Card are sent via Bureau in July 2017 - see also at QRZ.COM HB9RYZ/MM
Totally 243 QSOs and 59 DXCC-Countries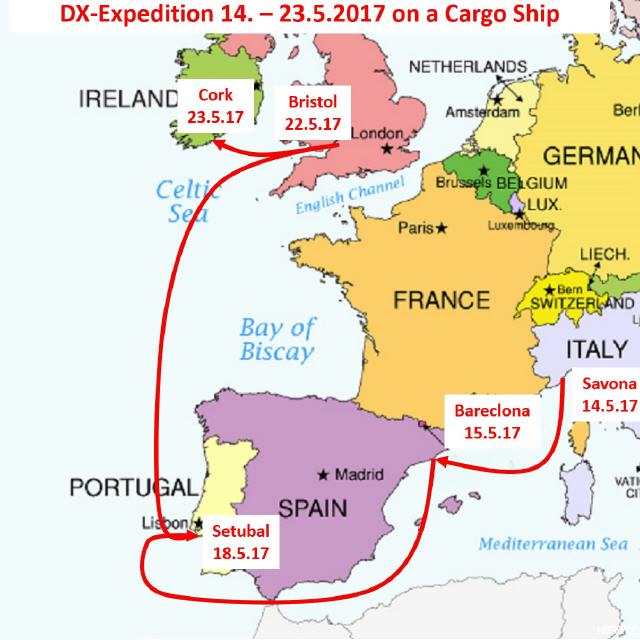 Europe Cargo Ship Travel - 14. - 23. May 2017
Grimaldi Lines Ship Trip and Informations [2'118 KB]
Travel Information and Booking

Real Time Vessel Tracking
Grande ELLADE - Vesselfinder
Grande ELLADE - Marinetraffic

QRV - On Air
HB9RYZ/mm
Every day on 14.317 MHz at UTC 10:00 and in the evening
MSC Preziosa Cruise Ship DX - click here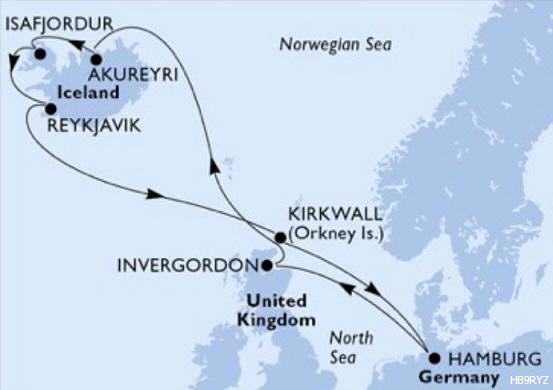 MSC Cruise Ship Travel from Hamburg to Iceland - 19. until 30. July 2017

Station
- Elecraft KX2 Transceiver with 10W only (QRP)
- 13.5m wire on a vertical 6m Fiber-Mast from the Cabine
- HARI 1:10 Balun and 1:1 HARI Current Choke

The local QRM from the Ship was always S7-9 and the conditions near Iceland was very poor at that given time due to the Sun Aurora activity over Iceland (green zone).

I had only 5 QSOs on 20m with: 9A7JCY, EI7M, I4TJE, OE5SLN and HG17HD between 28. and 29. July 2017.
At that time I was between Kirkwall Scotland and Hamburg on the sea.

I was happy to meet Ari TF3ARI in Reykjavik. He is the most active Ham-Radio Operator in Iceland.
TF3ARI SDR Kiwi SDR Radio with an 13m vertical antenna.

QRV - On Air
HB9RYZ/mm