Propagation Information
Realtime AURORA ACTIVITY IN THE NORTHERN POLAR
Realtime IONOGRAM FROM RÜGEN 54.6N 13.4E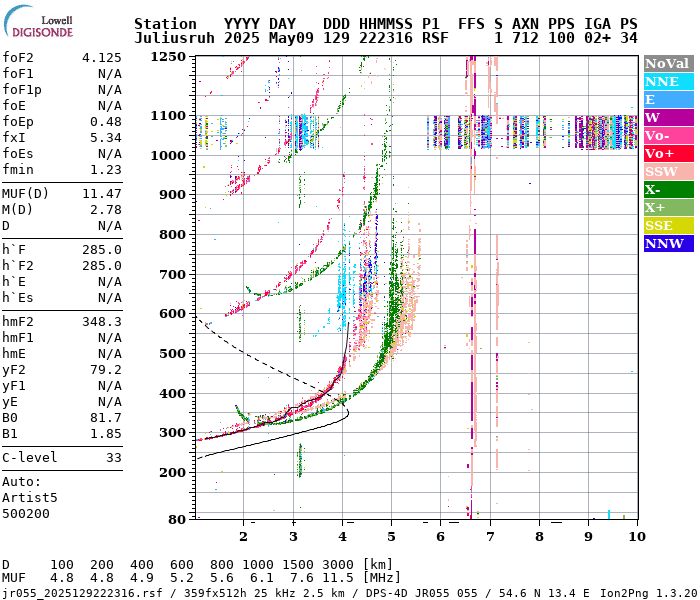 WSPRLite Kit from SOTA Beams. It is a self-contained propagation beacon transmitter. The WSPRlite is a special test transmitter that sends a signal to a Worldwide network of receiving stations. When used with our web-based DXplorer system, it's a powerful new way to evaluate antenna performance. Going way beyond antenna modelling or antenna analyzers, this unique system allows you to see how your antenna is performing in its actual location and in real-time!

Realtime WSPR DXplorer Map of HB9RYZ (20 Watt Transmitter) Firmware v1.07 - 20m from 5.- 15. June 2017

My Conclusion
After almost 2 weeks transmitting my WSPR signal with my small ATAS 100 Antenna and about 20 Watt on 20m, I was pleased to see my signal received in Europe, North America and South America. I was wondering, why my signal was not received in Africa, Middle East, APAC or Australia. It was possible to have Phone-QSOs in this time period with VK. So I guess, WSPR stations are just a few in these areas or the band condition on 20m was very poor at that time.

Received by: CX1EUY (7751km SNR -23), KL7L (7751km SNR -11), VY0ERC (Eureka Weather Station 4953km SNR -29), TI5LUA (9387km SNR -24), KP3FT (7432km SNR -21).

Finally, the WSPR Lit Kit from sotabeam is excellent. Easy to install and configure. It could be interesting to observe the band condition on a certain band over a long period from your home QTH and than compare with other Ham Radio propagation results. But this is not real time, this is the past, the history which does not count for me!
To be frankly, to know if your antenna has the right performance - it's just a guess (band conditions, availability of WSPR receivers, etc.) . It's easier to switch on your transceiver - check the DX-Cluster - and you will know right away how good your antenna will perform.
Copyright 2018 by HB9RYZ