Es'hail 2 Geo-Satellite OSCAR 100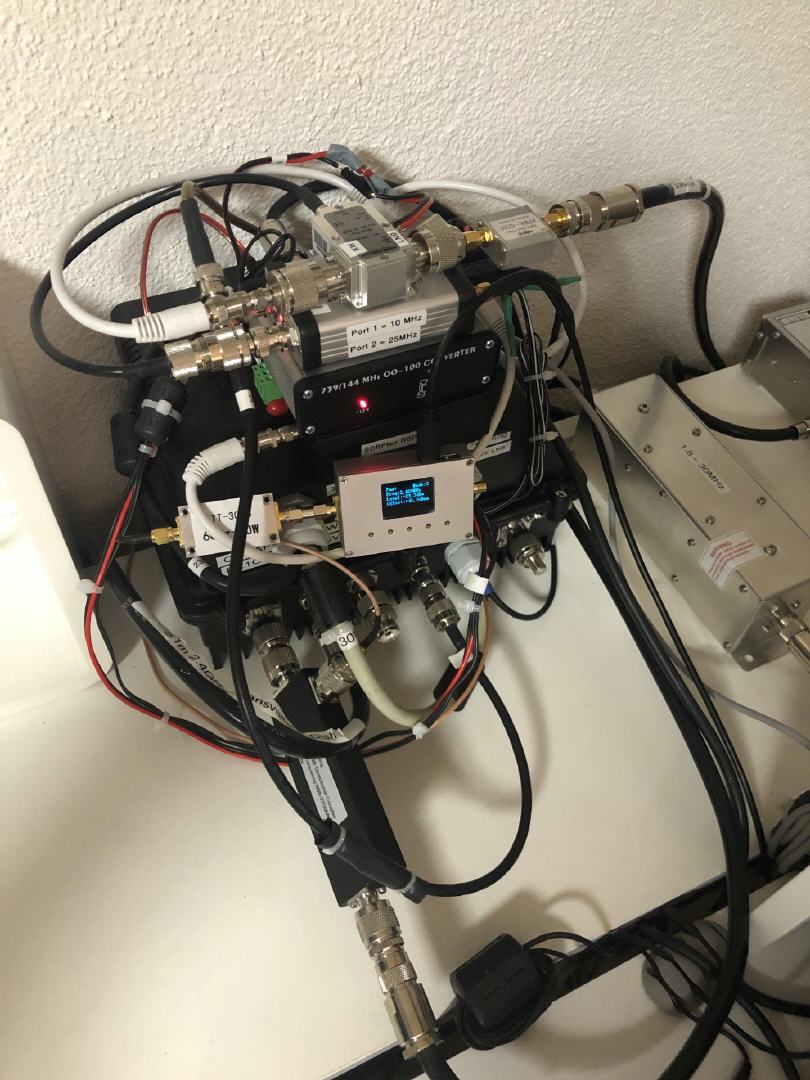 Qatar's Es'hail-2 Satellite 2019 - OSCAR 100
Es'hail-2 - Successfully launched into orbit (15. Nov. 2018)
The eagerly awaited start of the Es'hail-2 took place on 15/11/2018 at 20:46 as planned and successfully. This is the beginning of a new era in satellite broadcasting for us radio amateurs.

OSCAR 100 (QO-100) is QRV since February 14. 2019.

Qatar's Es'hail-2 satellite will provide the first amateur radio geostationary communications that could link amateurs from Brazil to Thailand. The satellite is positioned at 25.5 degrees East.

Es'hail-2 coverage areaEs'hail-2 will carry two "Phase 4" amateur radio transponders operating in the 2400 MHz and 10450 MHz bands. A 250 kHz bandwidth linear transponder intended for conventional analogue operations and an 8 MHz bandwidth transponder for experimental digital modulation schemes and DVB amateur television.
First QSO on 6. March 2019 with F1PYR at UTC 13:39
Technical Setup Phase 1 and 2
OSCAR 100 Setup for Phase 1
| | |
| --- | --- |
| Down-Link 10 GHz | Up-Link 2.4 GHz (13cm) |
| Test LNB OCTAGON Model OTLSO without Freq. stabilization | 13cm Helix 40mm Feed with 5 turns and 9dB Gain from Winkler-Spezialantennen Germany |
| 85cm Technisat SATMAN 850 Plus Offset Dish (38.2dB/11.3 GHz) | 85cm Technisat SATMAN 850 Plus Offset Dish (38.2dB/11.3 GHz) |
| 28m Ecoflex 10 Plus coax to the shack | 28m Ecoflex 10 Plus coax to the shack |
| DC Line Power Injection FSW 40F (through loss 1dB) for the LNB | KUHNE MKU UP 2424A Converter for 2.4 GHz, max 20 Watt Output |
| SDRPlay RSP1A and SDR Radio Console v3 SDR Software | ICOM IC-9100 Transceiver for 2m Band (UP-Link) with KUHNE Converter |
| | Heil Proset HC-6 Headset and Heil hand PTT-Control |
Test Call on OSCAR 100 - 7. March 2019
First OSCAR 100 Beacon Contact
Launch of es'Hail 2 Satellite with SpaceX
Oscar 10 Satellite Operation 1984 - 1985
These are some impressions from my OSCAR 10 SAT-Operation between 1984-1985. I used the ICOM IC-211 E for 2m (10 Watt) for the Downlink and the KENWOOD TR-9500 70cm (10 Watts) with a Home-Made Amplifier (50W) for the Uplink. I used the 14-element Yagi antenna from Tonna for (2m) and the 23-element Yagi for (70cm).

A self developed Commodore C64 application was managing my home built automatic SAT Antenna-Moving solution which was able to follow the OSCAR 10 at any time. A home made Pre-Amp controller unit for 20m and 70cm was managing the RX/TX flow for SAT operation.
Some of the OSCAR 10 Satellite QSL Cards between 1984 and 1985