NEWS - August 28th 2019: The Remote Station on Mount Rigi Scheidegg is fully operational!
Almost 2 years ago we carried out first talks with representatives from Rigi Railways Inc. about the possibility of renting a no longer used mast 1660 metres above sea level and using it for Amateur Radio. In autumn of 2018 we installed a temporary G5RV and two Colibri SDR receivers to find out if this location could be used for amateur radio. We found that we had some noise up there, but it was A LOT better than what we encounter at the home QTH of HB9RYZ and HB9CQK! Planning went ahead and Frédéric HB9CQK and myself decided to get our HAM Dream finalized.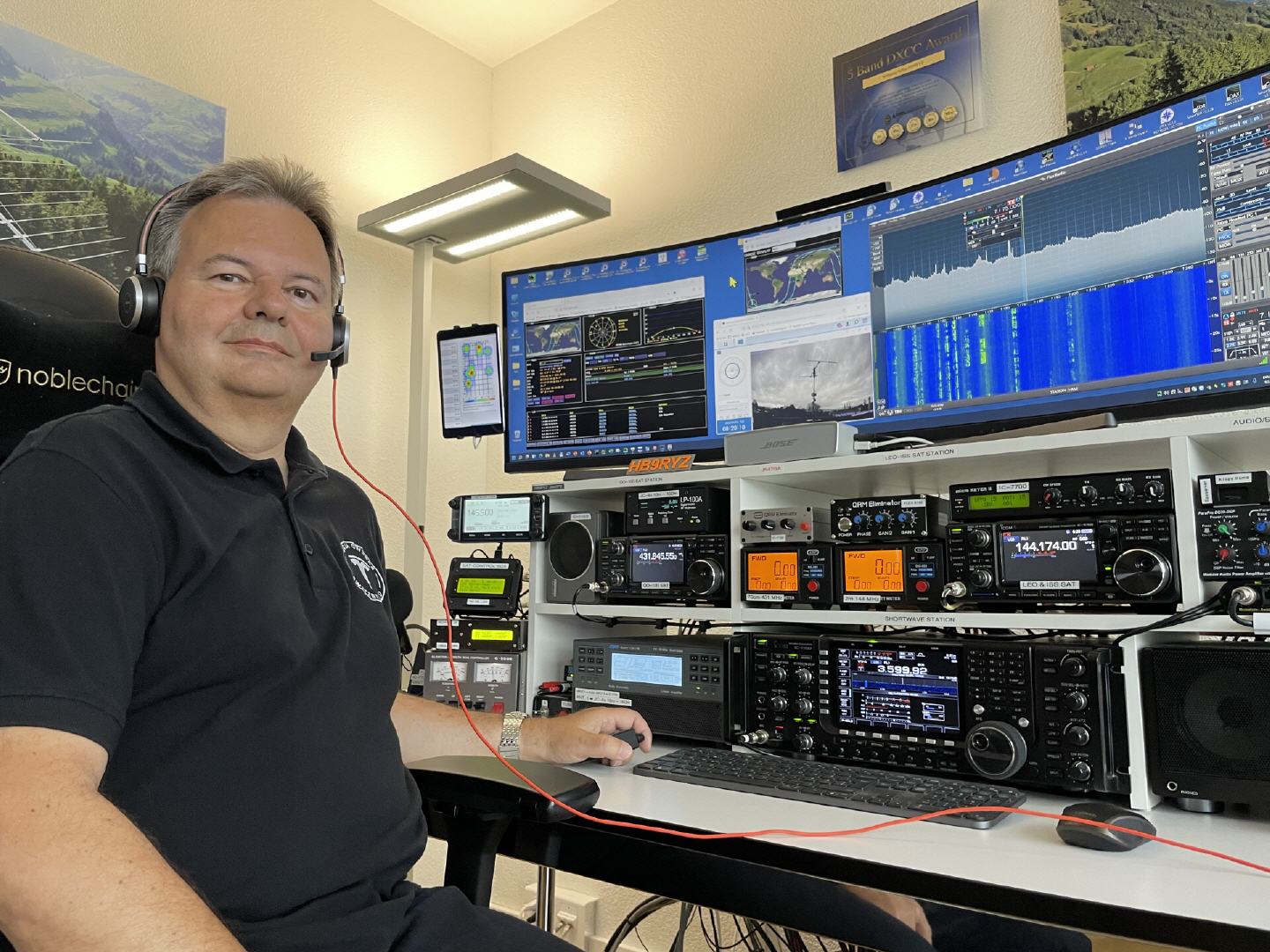 Amateur Radio and Ham-Spirit
Hams know there is no other service like ours. No fraternity on earth has the power & magic to bridge culture, nationality, distance and disparate interests like Amateur Radio does. To learn more about me and my passion, select from menus on the top.

Amateur radio, also known as ham radio, describes the use of radio frequency spectrum for purposes of non-commercial exchange of messages, wireless experimentation, self-training, private recreation, radiosport, contesting, and emergency communication.

The amateur radio service (amateur service and amateur-satellite service) is established by the International Telecommunication Union (ITU) through the Radio Regulations. National governments regulate technical and operational characteristics of transmissions and issue individual stations licenses with an identifying call sign. Prospective amateur operators are tested for their understanding of key concepts in electronics and the host government's radio regulations.

73' Wolfgang
[1] FLEX-6600M with [18] BOSE Soundlink AE II and Antlion ModMic V4 [2] ICOM IC-7700 with [19] Heil Pro 6 Headset IC [3] ICOM IC-9700 Transceiver 2m, 70cm, 23cm for OSCAR-100 SAT Operation [4] SPE Expert 1.3K-FA with ATU (1.3kW Amplifier) [5] LP-100A Digital Wattmeter up to 3kW [6] 49" Samsung Curved Display [7] Audio-Switch for Audio-Input und -Output Selection [8] PE1CMO OSCAR-100 Duplex-Transverter (20cm/2m), 20 Watt [9] 40m Tuning Help to cove rthe whole 40m Band with the AV-640 Ant. [10] Lingua V5 Speech Extractor [11] Sennheiser PC 3 Headset for Remote TX-Station [12] ORB Control Device for RemoteHams Remote TX Station [13] ICOM SP-34 Speaker for all devices via Audio-Switch [14] Remote ExpertSDR2 Client VFO Knob for Remote SDR Site [15] Flex Control USB for local FLEX 6600M [16] Heil Hand PTT Switch for FLEX 6600M

[17] Heil Hand PTT Switch for ICOM IC-9700/IC-7700 [18] BOSE Soundlink AE II and Antlion ModMic V4 [19] Heil Pro 6 Headset IC for IC-7700 and IC-9700 [20] HF-Sensor 3kW for LP-100A Digital Wattmeter [21] iPad 2 Mini for DX Propagation View www.DXheat.com [22] Sweex USB Sound Box for digital (optical) mode with IC-7700 [23] USB Speaker for Sweex USB Sound Box optical Output IC-7700 [24] High-End PC Intel Core i7 8700K, 4.7 GHz, 6 Cores, 32 GB Ram, 1 TB SSD Disk, Win 10 [25] Main 13.8V Power Supply Diamond GSV-3000 1-15V 30A [26] 230V Main-Power NF-Filter and Distribution [27] Digital Power and SWR Meter for 2m (DG-503) [28] Digital Power and SWR Meter for 70cm (DG-503) [29] Lenovo Carbon X1 Notebook for mobile remote operation [30] Leo Bodnar GPSDO for PE1CMO QO-100 Transverter [31] Power Supply (12V, 30V, 5V) for PE1CMO QO-100 Transverter
The evolution of my Shack since March 2016
Beobachter 14/2019 - Amateurfunk

Die Stimmen im grossen Rauschen.

HBradio 2/2019 - Article about my OSCAR 100 Satellite Station

QRV over the new OSCAR 100 Geo-Satellite

HBRadio 6/2016 - Article about my Inverted-V Antenna in German

Home Made Inverted-V (G5RV) from August 2016 to August 2018. Article in the Swiss Amateur Radio Association Magazine 06/2016. The article is written in German.

HBRadio 4/2017 - Article about my Expedition at a Cargo-Ship and Cruise Ship in German

Reiseberichte von den MM-Erfahurngen auf einem Frachtschiff (Cargo Ship) und Kreuzfahrtschiff (Cruise Ship). Article in the Swiss Amateur Radio Association Magazine 04/2017. The article is written in German.

QRV on Cargo-Ship SWISS ARTG GV 18.11.2017

Vortrag zu den beiden kleinen Expeditionen auf einem Frachtschiff als Passagier von Italien nach Irland und auf einem MSC-Kreuzfahrtschiff von Hamburg nach Island.
AV-640 Antenna 6m-40m since September 2018